Operating a snow plow on a city railroad (New York, New York). This blizzard brought 20" snow to New Haven. The blizzard brought more than 1 foot of snow to New York City, with 2-3 foot drifts, 20" of snow to New Haven, and about 2 feet of snow to Boston, along with 4-8-foot drifts.

Source: Harper's Weekly, February 2, 1867.

Account from New Haven: "The heaviest snowstorm that has occurred for ten years prevailed here today [January 17]. It commenced last night at midnight, and has just ceased. Snow has fallen to the depth of twnty inches, and, being accompanied by a gale of wind is very badly drifted in places to the depth of twenty feet [probably drifts twenty feet in length]."

Source: "The Great Snowstorm," The National Republican, January 18, 1867.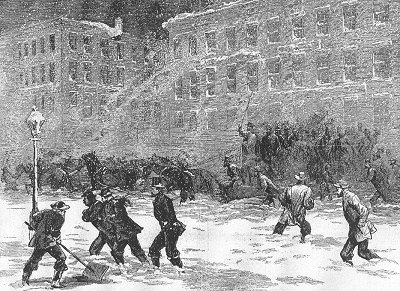 Ox Team heading to the street after the big snow storm, Jan. 16th, 1867 (Portsmouth, New Hampshire)--Photographer: Davis Brothers

Source: New York Public Library