April Fool's Day Snowstorm

March 31-April 1, 1997

Southwest Corridor, Back Bay/South End (Boston, Massachusetts: April 1, 1997)

A special thanks to Gormie's G-Spot Photo Gallery for these photos

St. Botolph Street, Back Bay (Boston, Massachusetts: April 1, 1997). Accumulations included: Albany: 15.3"; Bedford, MA: 24.0"; Boston: 25.4"; East Jewett, NY: 37.0"; Hartford: 14.7"; Islip: 2.7"; Milton, MA: 36.0"; New Bedford, MA: 13.0"; New York City: Trace; Philadelphia: 3.9"; Portland: 2.5"; Taunton, MA: 17.0"; and, Worcester: 33.0"

News account from Boston: "Yes, it was just three days ago [March 30] that warm southerly winds wafted across southern New England, luring residents out of their homes for leisurely walks, games of pickup softball and maybe a few holes of golf... By yesterday morning [April 1], not much was moving: A wet blanket of drifted snow had smothered the region, thousands of trees had broken and bent, and power lines everywhere had given way. Well into the afternoon, the snow kept piling up, inch by inch, until depths reached 2 feet and deeper. Then, as afternoon moved into dusk, the sun broke through the scudding clouds. Exit the blizzard; time to dig out and to make way for the melting."

Source: "Scenes of Springtime," Boston Globe, April 2, 1997.

Columbus Avenue, South End (Boston, Massachusetts: April 1, 1997)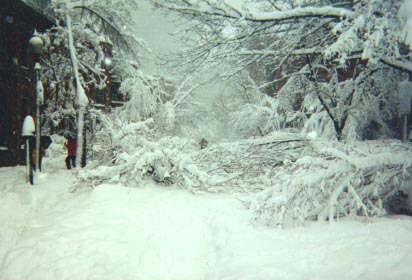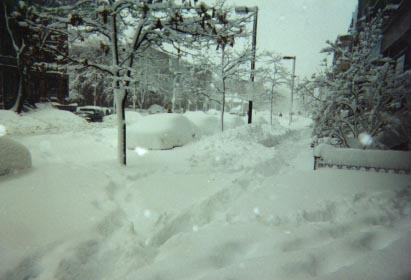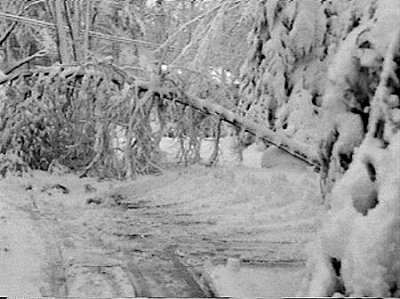 Collinsville, Connecticut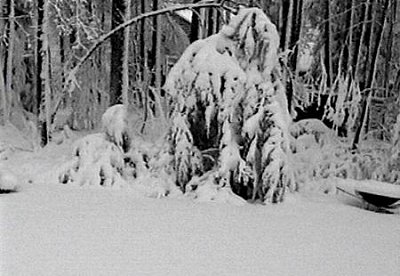 Collinsville, Connecticut

A special thanks to Andrew Plona for the above two photos