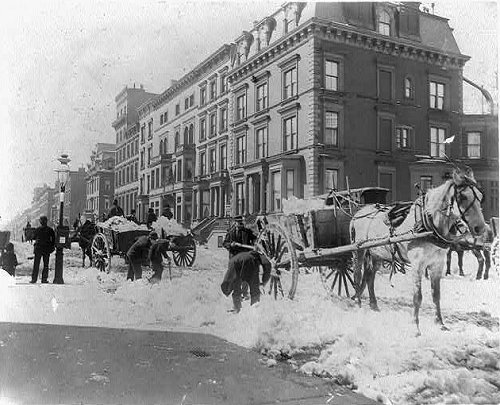 New York City. Snowfall amounts included: Albany: 7.3"; Boston: 6.0"; New London, CT: 12.0"; New York City: 12.0"; and, Worcester: 8.0"

Source: Library of Congress

News account from Westchester County, New York: "The heaviest snowstorm of the season was that of yesterday and today [March 15-16]. It began about noon Sunday and, with short intermission continued until this morning. About a foot of snow fell. In its wet condition it proved a great impediment to the trolley cars and those in White Plains were laid up. The travel on the principal thoroughfare, Railroad Avenue, by sleighs and wagons, was so great that the snow was packed hard upon the roadbed, rendering it almost impossible to clear the rails."

Source: "The Storm Along the Hudson," The New York Times, March 17, 1896.